Quicksafe Gas Rigs & Fittings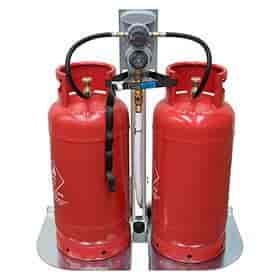 Recommended by NCASS, the Nationwide Caterers Association, the QuickSafe gas safety system allows you to connect your appliances to the catering pre-designed pipework. Consisting of a mobile rig equipped with an automatic or manual gas changeover valve and the Clesse automatic changeover with OPSO (Over Pressure Shut-Off) gas regulator. This LPG safety system can be used with 1, 2 or more cylinders. 
The QuickSafe is also fully compliant with Liquid Gas UK Codes of Practice 24 part 3.
Discover all the benefits of a QuickSafe gas safety system with automatic changeover catering gas rig, OPSO and Telemetry. You can monitor and manage your gas bottles remotely, get notified when the gas runs out, order more cylinders and easily find which one needs replacing. All at your fingertips and within Bluetooth range with the CompacTi App! 
Would you like to know how it works? Find all about it and futureproof your installation with us.
Items 1-12 of 20
Items 1-12 of 20