Cadac Barbecues & Accessories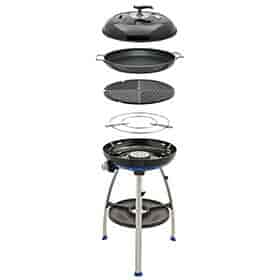 Cadac gas BBQs range is extensive and includes portable BBQs, like the popular Cadac Carri Chef, Cadac Safari Chef and Cadac Grillo Chef; patio BBQs, like the stylish Cadac Citi Chef series; camping stoves and gas grills, like the Cadac 2 Cook 2 Pro; built-in BBQs, like the Cadac Meridian 3 and 4 burner gas BBQs. 
Your outdoor cooking experience will never be the same with Cadac. Try its unique modular system and its large variety of cooking tops to grill, fry, stir-fry, boil, prepare delicious breakfasts and paellas, and even make pizzas on the Cadac Pizza Stones! 
We also stock other Cadac accessories, cleaning utensils and tools to enhance your cooking experience and special covers to make your BBQ last a long, long time. 
Items 1-12 of 63
Items 1-12 of 63