Rinnai Water Heater Digital Controllers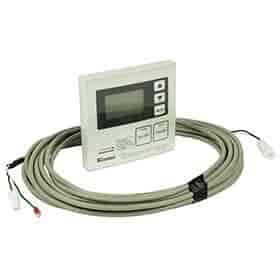 With Rinnai's digital controllers, water temperature control has never been easier!
The remote temperature controllers will ensure your heater delivers hot water at the desired temperature even when the water flow is varied or more than one tap is in use.
Each controller can be individually programmed; however, the water heater can only deliver one set temperature at any time. The controllers cannot override the master temperature setting made with the DIP switches within the heater.
12 volts DC supplied from the water heater (up to 50m cable run) - depending on the model.
12-hour AM/PM Clock
In-use indicator
Diagnostic tool for service and maintenance
3 Items

3 Items