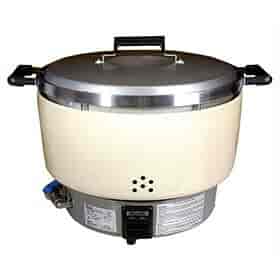 White or brown rice? Sushi or sticky rice? Rinnai gas rice cookers guarantee perfect results every time. These rice makers are suitable for any commercial kitchen, from Japanese sushi takeaway to Chinese restaurants. Easy to use, Rinnai gas rice cookers have a capacity of 10 litres and can cook up to 55 cups of rice without any manual intervention, making your meal prep easier and quicker. 
Rinnai gas rice cookers don't just make delicious fluffy rice for your Asian or gourmet recipes. They also work as rice warmers to keep your rice fragrant for up to 1 hour.
Available as either LPG or Natural Gas versions.
2 Items

2 Items